This week we talk to the comedy black belt champion, Kerry O'Neill, from the UCB Maude Team Karate Karate. Kerry brings a sense of realness and honesty to this episode. She's from NYC and moved to Los Angeles twice, which in itself is a real feat. We talk about everything from working at a wing restaurant, to Harolds, to the importance of never underselling your pitches, which may be the best lesson one can take away from this podcast.
We pitched off of 3 short but true monologues about ourselves and brought in one pagers from last week's episode with another great Maude writer, Kale Hills. Kerry was generous enough to help us extrapolate on our brief ideas and give us some great advice on how to move them forward into a full length sketch which you will hear next week.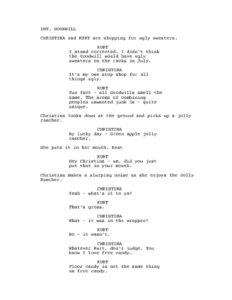 The one pagers they read this week!
SHOW NOTES
You can watch Kerry's sketches on Karate Karate during Maude night (next show March 22nd)
Get tickets HERE: https://www.ucbtheatre.com/show/1684
Follow Kerry on Twitter: @iamkerryoneill
Follow us on Twitter: @FOOWpod @imtweedy @jeremiahburton1